Trev & Dianne Halstead
Rukuhia, New Zealand
Trev is a guy that has no fear of attempting a project like this. Taking parts from various Studebakers sitting in his yard, he constructed this beautiful sedan delivery.
Starting at the front, the 1950 grill panel has recessed stock grills and there's a new cast brass and chrome plated bullet. The 1951 hood has rounded corners and is extended 1-1/4" over the front panel and all chrome is removed. The front fenders are from a 52 and Trev removed the front sections and reworked them to fit the 50 front panel. The fenders were also stretched 2" and the openings were radiused to clear the front wheels. The headlight bezels were molded in and the fenders were welded to the cowl. Doors are rebuilt from 1947-1952 parts with lower skins and frames replaced. Door handles were shaved and have remote operated solenoid openers.
The roof is custom built with a Falcon center section and 56 Stude rear quarters. Trev made custom rolled side sections to connect the A pillars, that were chopped 3-1/2", to the new roof. The liftgate is from a 56 Stude wagon that was widened 3" and chopped 3", and it's fitted with a Diaglas rear window that was moulded to fit. The 59 Stude tailgate has a 3" wider than stock frame and was re-skinned by Trev. The custom built rear panels are stretched to be in proportion to the rest of the car and rear wheel arches were formed to cover the wheels. The rear corners of the body are hand formed to tie all the bits together with 6 custom made taillight pods. The 47 Stude rear bumper has been smoothed and raised, and is flattened and relieved for the square exhaust tips and license plate bracket.
The body is channeled 4" over a 1947 Stude chassis that was stretched from 112" to 118-1/2" and strengthened with 1/8" steel plate, extra outriggers and an extra crossmember. A Torana Sunbird donated the front suspension, and Trev added a custom built sway bar system, heavy duty coil springs and gas shocks. Rear suspension is from a 1 ton Holden flat deck. The leaf springs were de-arched and integral built in lowering blocks were added to lower the back end. The narrowed Ford 9" rear end runs 2:75-1 gears and the rear sway bar and gas shocks are from an XB Falcon.
Inside this RHD beauty, a 47 Champion donated the dashboard and Trev installed 52 instrument cluster and custom extension to hold a Sony Mini Disc player which plays only authentic 1950's Rock-n-Roll music! The steering column was put together with parts from a Torana Sunbird, Commodore and HT Holden, and the steering wheel is a 1980 Fairlady with a custom made centre and 56 Stude horn button. The console houses the electrical system and gauges and the battery is mounted under the front of the delivery part of the floor with all other electrical system parts plus a CD stacker unit. A Hilux heater warms things up inside for those winter cruises. The seats came from an "old Honda Prelude" and new interior panels were made from Acrylic sheet. Armrests and door handles are from a 55 Studebaker. MasterTrim in Frankton did the stitching and installed the headliner and Trev placed all fabric onto the panels, made and fitted buttons, laid carpet and folded all stainless steel edges and sill boards.
Under the hood, Trev made custom inner fender panels and mounted them to Torana suspension towers that have custom covers over to hide the top wishbones. The firewall is custom built and recessed to clear the back of the owner built 427 ci big block Chevrolet engine that runs TRW pistons, a forged crank, Isky mega cam, ARP head bolts, roller rockers, Eagle heavy duty rods, open chamber small port heads, Edelbrock performer manifold, Holley 750 cfm carb and ceramic coated JR headers. The block and heads have been smooth finished and a custom radiator, high torque starter, Bosh alternator, Weiand valve covers and the owner built 2" exhaust system complete things. All that is sent through a GM Turbo 400 that's been smooth finished and painted to match the motor, alloy sump, Hurst pro matic and custom built drive shaft.
Trev custom mixed and applied the lime green paint to the chassis and all fittings – dashboard, engine, transmission, engine bay and interior using a 2 pack system. The exterior is acrylic lacquer with perhaps a custom job to come later with a clear coat. The car rides on 15" steel Falcon wheels (6-1/2" front and 10" rear) with hubcaps and bullet roulettes to match the bullet nose front.
Trev thanks Eric Carter and Greg Knight for their help on his project and Forlong & Maisey in Te Rapa, Hamilton for the plating.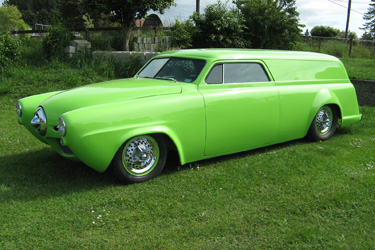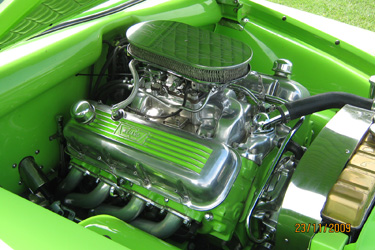 Another one of Trev's projects,
his 51 Studebaker 4 Door Sedan,
is featured on this page.