Larry Rollow
Dallas, TX
Larry grew up in the San Fernando Valley in California. In 1965 he purchased this 1951 Champion Regal Starlight Coupe. Soon the flathead six was replaced by a Dodge engine and TorqueFlite transmission and it was often raced at various Southern California drag strips. In 1970, Larry was on active duty in the Navy and the car was sold. Fast forward to 1993 and, by one of those flukes that sometimes happen, Larry found and was able to repurchase the car.
The car went through a total frame off restoration and today itís set up as a Pro Touring Resto-mod. Additions to the chassis include a 1968 Camaro front clip that was grafted to the Studebaker frame. Global West A arms, a sway bar and HD shocks were also added. An Ididit tilt column replaced the stock unit and a Trans Am provided the quick ratio power steering box. The 12 bolt GM rear end has been narrowed and is mounted on the Studebaker's leaf springs. Larry added a sway bar, traction bars and a Panhard bar to help with handling. The car stops with 4-wheel disc brakes and rolls on BFG tires mounted on Weld Rodlite wheels, 15 x 7 up front and 15 x 10 in the rear. The gas tank was replaced by an oversized Rock Valley stainless steel tank with an Aeromotive in-tank electric fuel pump.
Under the louvered hood is a 355 ci Chevy engine with a Holley HP throttle body fuel injector sitting on top of a Weiand supercharger. Exhaust flows through Hooker Super Competition headers and cooling is handled by a Brice-Thomas aluminum radiator with two electronically controlled Spal fans. Larry also fabricated a ram air system to the intake thatís routed from the grille via air ducts through the wheel wells.
The interior was fully insulated before bucket seats and a console were installed up front. Other comfort features are cruise control, power windows, a stereo system and A/C. Larry built a custom dash for the Autometer gauges.
Larry did all the mechanical and assembly work on the car as well as fabricating a number of special parts and brackets. When it was time to finish the car, it was turned over to a local body & paint shop. They copied the flares over the front wheels and fabricated duplicates for the rear fenders over the openings that were cut out when it was being raced. The front bumper was left off and the trim on the hood was removed but Larry left the stock trunk lid handle and taillights. After the bodywork was completed, it was painted with a 1996 Camaro Medium Quasar Blue base coat/clear coat.
Above are three photos of Larry with his car. The top one was taken after he bought it in 1965. The middle photo was taken after he repurchased the car in 1993 and the bottom one is how the car looks today. When Larry sent these photos he pointed out that he was wearing the same shirt in all three photos. The photo on the right is of the car in action at Lions Drag Strip in Wilmington, CA.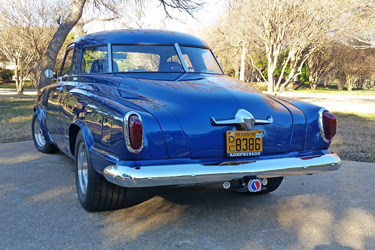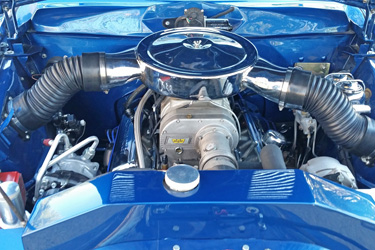 Not sure if there will be any more changes to this car and I can't think of anything that would make it look better, except seeing it driving down the highway. I'm sure it gets a lot of looks.