Gary Pettigrew
Carmichael, CA
Gary's beautiful 1948 convertible certainly didn't start out that way. It was badly rusted and Gary used the floor, front end and rear fenders from a donor '50 Studebaker two door sedan. The doors were replaced with doors from a '52 hardtop coupe. The front fenders were pie cut to drop the nose 1-1/2" and VW Cyber Green paint was applied. The car now has bucket seats and a leather interior. Gary kept the nice original '48 dash but added a console under the dash. The top is Navy Blue and the taillights are from a '51 Studebaker.
This car runs a 1994 Chevrolet LT1 engine and 4L60E transmission with a 9" Ford rear end. It has air ride suspension which lets it get real low when parked.
Nice job, Gary!
---
August, 2016 Update:
Gary added some blue flames to his car and the photo below was taken at the Good Guys car show in Pleasanton, CA. Jimmy Nye did the layout and Steve Welsh did the paint. Nice addition to this great looking convertible .....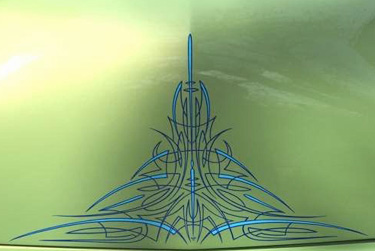 Pinstriping on Deck Lid