Ted Harbit
Indianapolis, IN
Ted's 1951 Studebaker Starlight Coupe, the "Chicken Hawk", was the NHRA National Champion in 1962, running in the K Stock class with the 232 cubic inch Studebaker V-8 engine that was bored .060 with a 2 barrel carb. His ET at that meet was 16.9 seconds and his best ET in stock form was 15.4. Over the next 11 years, he was National Champion 8 times.
To go faster, Ted installed a 289 cubic inch Studebaker R-2 engine with twin turbos and his best ET improved to 10.07 seconds with a top speed of 137.80 in the 1/4 mile.
The picture on the right shows Ted's Studebaker flat bed car hauler that transported the Chicken Hawk to and from the drag strip.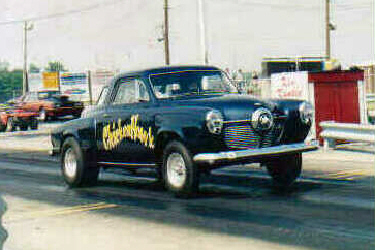 On May 9th 2009, Ted crashed his car at the Muncie Dragway in Muncie, IN. The accident happened after a right-side freeze plug blew and took out the oil line to the right-side turbocharger. The broken oil line sent an oil slick down under the car, causing the right rear wheel to loose traction, and Ted to loose control. Ted said the engine was still running when he hit the wall on the left side of the track, so the engine did not "blow" and initiate the accident, as was initially thought to be the case.
After the engine was torn apart, Ted said the oil screen and pick up was destroyed but the pump was ok. The crank, block, cam, rods, pistons, heads and tunnel ram manifold all escaped damage. The cam gear, crank gear and timing cover were damaged and one of the carburetors will need repair or replacement. Other than that, the engine seems to be ok and will be re-assembled after Ted has the parts magnafluxed.
As you can see, the midwest legend Chicken Hawk suffered major damage and Ted was injured in the crash. This is how the first half of 2009 started but by mid year, Ted was back in the driver's seat racing his red 1963 R-2 powered Super Lark. Ted said "losing the Chicken Hawk, after having it 48 years, is still pretty depressing." Hopefully the heart of the Chicken Hawk will be replanted in another bullet nose some day.