Carl Szembrot, a tavern owner from Albany, NY, had R. K. Body Works customize his nearly new 1950 Studebaker convertible after he saw photos of this 1951 Buick LeSabre dream car, and thought it would be cool to own a car that looked like this .....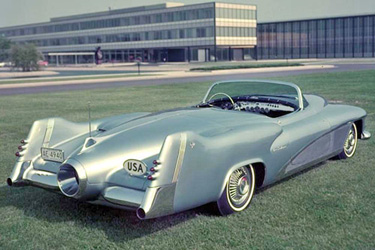 The rear fenders on Carl's Studebaker were extended 28" and flush mounted lights were installed in the large fins that were added. Another 50 Studebaker donated it's hood, bullet, and eyebrows and they were installed in place of the trunk lid to duplicate the jet plane exhaust look the dream car had. He also installed red lights behind the bullet to make it glow at night and a Cadillac rear bumper finished off the unique rear end. It was painted flamingo (pink?) and was featured in a 1950ís Motor Trend magazine. It retained the stock drive train so it was all show and no go.
When Gary Breau
lived in CA, he cut the top off his Commander and installed a Carson style top because he wanted a convertible. After he moved to RI, he saw an ad for a convertible parts car in NY. He bought it so he could use the convertible hardware to make his Commander a real convertible. The parts car was actually what was left of Carl's old custom. Gary cut the rear end off and was going to use it on a Studebaker business coupe project he had plans for. When that didn't work out, the car was sold to Dan Fox in November of 2013 and the car was moved to MN. I'm hoping to keep track of what he plans to do with it.
The Kustomrama website has a write up about this car and if you'd like to read more, click here.

Below is a photo from the Motor Trend magazine .....


and one of
what was left when Gary sold the car.